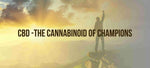 CBD - The Cannabinoid of Champions
A growing number of sports fans are flocking to CBD. Some pretty famous, neon-lit names are raving about the pain-relieving, anti-inflammatory effects of CBD.
From well-known skiers to NFL players and MMA fighters, serious athletes are turning to CBD to avoid the toxic cycle of prescriptions and addiction. Even over-the-counter NSAIDS, (non-steroidal drugs, like Motrin or Advil) can lead to liver damage and heart and stomach problems, according to the Cleveland Clinic.
"However, the side effects of these drugs are often underestimated."
Even worse is the dark entanglement of opioid abuse that has led to high-profile addiction and disability among athletes in recent years. The Centers for Disease Control estimates that in the past two decades, people have died from a drug overdose, many involving an opioid. It's no surprise that everyone from millennials to Baby Boomers are flocking to all-natural CBD instead.
A safe alternative
CBD is well-tolerated in humans and maintains a good safety profile. Neither abuse nor dependence has been demonstrated. CBD shows potential. Pro athletes are now speaking up in the public square about the life-altering boost they've received from CBD. Ski guide William Spilo even founded his own company, CBD Luxe. Spilo is a take-no-prisoners snowboarder and helicopter ski guide. The physical toll of his high-impact sport has left him with a bionic mainframe: a plate and six screws in his neck, surgery on both shoulders and left knee, and plastic implants in his face. Torn ligaments and dislocated shoulders bring lots of inflammation.
"Pharmacology is what most people have resorted to," he writes on the CBD Luxe website. "The NSAIDs are really hard on the liver and kidneys…"
CBD for Athletes
"Appealing to the sporting customer requires specialized knowledge of how CBD works in the body and which products are most effective," according to Adam Brewer, Founder of CBD Remedies. "CBD and athletes go hand-in-hand. CBD is a natural product, that comes from a seed, not a lab. It has a wide range of benefits to support their hard-driving lifestyle," Brewer says. Brewer does his homework. He drives to nearby Colorado to tour the manufacturing plants of the products he sells. He studies the way the CBD is extracted, to squeeze out the most health benefits. He reviews the third-party testing for purity. He goes to the trade shows to find cutting-edge products like CBD inhalers and rosin-based salves. His philosophy for selling to athletes is simple:
- Don't sell out.

Brewer rejects free, low-quality CBD products offered by manufacturers who want to promote their brands. "I could make a lot of money doing that, because there's no cost to me, but I don't," he says. "I only carry the very best brands like Pachamama and Charlotte's Web. I emphasize full-spectrum CBD, with the most terpenes and anti-oxidants. I sell gold-standard products like Barlean's, which require you to fill out a form to be a chosen vendor. Athletes are health-conscious and take care of their bodies. We want to earn their trust."

– Promote CBD education.

CBD Remedies posts educational blogs frequently, as the science keeps changing. Our understanding of CBD will grow exponentially in the decades to come. Major pharmaceutical companies are entering the field in the next few years and we will have a lot more quality, human-based research. Until then, we stay on top of the science that's out there. For instance, athletes might be interested to know that human skin is covered in CB2 receptors which CBD creams are tailor-made for. That's why CBD salves are so effective for inflamed joints.

– Understand the science.

The power behind CBD is that it interacts with the body's endocannabinoid system. According to the National Institutes of Health, this system maintains balance in our body and controls many essential functions. It helps the body to "relax, eat, sleep, forget and protect," the NIH states. This system interacts with pain pathways in the body, including endorphins. Less pain means better sleep, and sleep is very restorative for athletes. CBD is also a healer. It is a more potent antioxidant than vitamins C or E, according to the NIH. It is a proven powerhouse of health.

– CBD is multi-use.

CBD is not just for pain or inflammation. Customers buy it for sore joints, then discover that they sleep well, too. Or, they use it to reduces stress and performance pressure which has been documented in scientific studies.

– CBD is for everyone.

It's not just for clued-in millennials or the younger members of Gen X or Gen Z. Although millennials are among the biggest consumers of CBD, it's also ideal for aging Baby Boomers. According to Adweek, the number of CBD consumers doubled in 2018, with female boomers making up 21% of that total. Mood and mental well-being were top reasons for buying it: 61% used it for relaxation, 41% for stress, 41% for nervousness, and 40% for aches and muscle recovery.

– CBD doesn't get you high.

Remember that CBD doesn't get you high and is not addictive. Hemp-derived CBD with less than .3 percent THC helps with pain but won't get you hooked.

– Don't forget the fun.

CBD Remedies sponsors MMA fighter and CBD user Haris Talundzic because, hey, athletes love other athletes. On our website, you'll also find offer tasty recipes and tips for using CBD at parties. CBD is becoming a way of life for many athletes, a part of their "happy place."