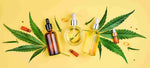 What is CBD oil? - The Top 14 Most Asked CBD Questions
1. What is CBD Oil?

CBD is a powerful cannabinoid that comes from the hemp plant. Through careful extraction, scientists create CBD oil, which contains potent cannabidiol. It doesn't get you high. Instead, it interacts with body systems to relieve stress, heal, and calm. CBD must legally have less than 0.3 percent THC, the psychoactive ingredient in marijuana.

2. How Does CBD Work?

The human body has cannabinoid receptors- like those that regulate and balance our body- that are tailor-made to receive CBD. CBD interacts with these receptors to restore harmony where there is an imbalance. That means that CBD helps with everything from mood to hormones.

3. Why Do People Use CBD Oil?

CBD helps regulate a range of body systems. This helps with injuries and ailments and keeps the body in "tuned up" shape. Serious side effects of CBD have not been found, although you should consult a doctor if you have a medical condition. CBD is cheaper than most prescription drugs, without the harmful side effects.

4. How Available is CBD Oil?

You can buy CBD anywhere, but chances are, the cheaper products at the convenience store aren't very effective. CBD from a reputable company like CBD Remedies is top-notch, guaranteed potent and pure, and available in in the latest formulations, from inhalers to full-spectrum rosin.

5. What Are CBD Oil Users Saying?

You can find consumer testimonials on WebMD from people who have tried CBD for a variety of conditions. Here are a few:

"CBD tincture helps control my chronic  due to injuries I received in a fall. I take 20 milligrams… twice a day sublingually. I also use a CBD cream to help soothe my body...I have found my health much more manageable and tolerable."

"I use CBD oil to help balance my health and it has changed my life! If I forget to take it for a day, I can really feel how much worse my pain is. 100% life changer for me."

"(CBD) gave relief from aches, sore muscles, and the capsules help me with fatigue in the afternoon. My spouse used the tincture for sore muscles relief when he broke his shoulder. It was the only thing that helped with the pain."

6. What Does the Research Say

CBD (Epidiolex) s an FDA-approved drug for childhood epilepsy syndrome. It reduces seizures by up to 70 percent, according to the National Institutes of Health. Studies have shown that CBD reduces aches and provides deep, restful sleep.

A study in the European Journal showed that topical CBD helps with Data is beginning to pile up regarding CBD's usefulness in everything in maintaining balance of health. You can find many studies on CBD on the U.S. National Institutes of Health website.

7. What is the Correct Dosage?

Many people start with a lower dose of 5-20mg of CBD, taken once or twice daily. Then, slowly increase, working up to a dose of 50-100mg per day as needed. Taking CBD regularly is more effective- it's best to take it for at least a week for maximum benefits. CBD can build up in the body over time, which increases its effectiveness.

Many top-shelf products here at CBD Remedies have dosing information on the package. Edibles should be taken as directed; many oils and tinctures have measured dosages on the droppers.

8. How Long Does CBD Take to Work?

This can depend on your weight, how recently you've eaten, and your body metabolism. In general, edibles go through the digestive system- so it may take a few hours for the effects to be felt,  according to one study. However, CBD in this form lasts longer in the body. Vaping or dropping CBD under the tongue via a tincture or oil works fast. Vaping causes CBD to enter the lungs immediately. If you drop it under the tongue, CBD enters the bloodstream in minutes.

9. Are There Any Side Effects or Risks?

Serious side effects of CBD have not been discovered. If you are taking medications or have a health condition, consult your doctor before taking CBD.

10. Is CBD Oil Addictive?

CBD has shown no addictive properties, according to the World Health Organization.

11. Which CBD Oil is Best, What Should I Look For?

Is it clean? Hemp that yields CBD is subject to mold and root rot if grown in the wrong climate conditions. This can lead some growers to use pesticides. Hemp tends to absorb chemicals- you should always look for organically grown hemp. Reliable products such as those sold at CBD Remedies are carefully tested, free of pesticides and mold, and organic.

12. How strong is it?

ConsumerLab.com found that the amount of CBD in products can vary between 2mg to 22mg per dose- a very wide range. The labeled strength isn't always accurate. That's why it's best to trust top CBD brands such as those sold at CBD Remedies. They use third-party testing, and each batch is reliable and safe.

13. Is it pure?

Shoddy CBD manufacturers may use chemicals or solvents that remain in the CBD. C02 extraction- the preferred method- costs more, but results in a pure product. At CBD Remedies, we sell products that are third-party tested-not just once, but regularly- for purity and potency. For safety, you should only use CBD that comes in a sealed container.

14. Is it third-party tested?

The FDA doesn't regulate CBD currently, so it's up to consumers to be extra careful. At CBD Remedies, some of our products come with a barcode you can scan online to review the product testing. All of the products sold on our site are regularly third-party tested and come from top, award-winning manufacturing plants.

This saves you money and protects your health. When shopping at CBD Remedies, you won't be buying a weak product or consuming harmful contaminants.