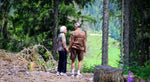 CBDMEDIC is an Official Arthritis Foundation Impact Sponsor
Continuing the mission to improve lives naturally, Charlotte's Web brought CBDMEDIC topicals into the family of products. Their creams, oils, sticks, sprays and other products were designed for temporary pain relief, made to bring more comfort and flexibility into your day. CBDMEDIC is now a proud Arthritis Foundation Impact Sponsor with the goal that we might serve as champions and active supporters in the Arthritis Foundation's dedication to provide encouragement and assistance to the arthritis community.
CBDMEDIC is proud to support the mighty efforts of the Arthritis Foundation as they endeavor to promote life-changing resources and research to help the many Americans in pain.
Committed to Pain Management
CBDMEDIC's OTC topicals use patent-pending technologies that deliver active pharmaceutical ingredients to specific areas for temporary pain relief, including our specially formulated.
How Does it Work?
CBDMEDIC topical creams and ointments are formulated with menthol and camphor, two over-the-counter, naturally derived ingredients permitted by the FDA as topical analgesics for pain relief. Camphor and menthol have analgesic properties, meaning they interact with pain receptors and interrupt pain signals being sent to the brain. They are rapid acting and work locally in the area where applied. Research shows that these ingredients increase circulation to the area where applied. Improved blood flow supports temporary relief from pain.
CBDMEDIC Arthritis Aches and Pain Relief Cream comes in an easy-to-use pump bottle designed specifically for those with limited dexterity. It contains 4% menthol, and is formulated for penetrating absorption and fast, temporary relief from painful arthritic symptoms.
Original Article Source: Charlotte's Web CBD
Copyright Disclaimer: CBD Remedies does not claim the ownership of this article and CBD Remedies has permission and authorized to use this article on our website.